The 4 tips to achieve professional quality audio in your meetings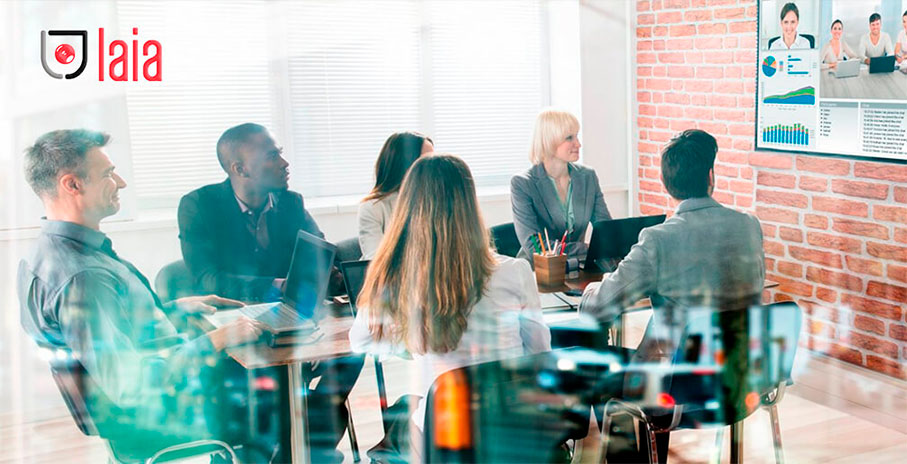 After the imposition of teleworking in many of the companies in our country, the importance of the quality of video calls has become one of the most frequent concerns among employees. Therefore, if videoconferencing is essential for you and your business and you don't want to risk giving a bad image, stay with us in this post.
In a professional videoconference, you cannot allow sound to detract from the online meetings of your business, much less transmit a bad image. For this reason, join us in this post and discover the 4 factors that will make the difference between achieving a professional sound or a poor sound.
1. The space or environment: reduce the echo in your conferences
The size of the room is critical in deciding the type of microphone. Some spaces without any type of decoration tend to create reverberation of the sound, this due to the fact that the sound travels without any kind of containment to the walls, generating a rebound effect that distorts the voice. If the reverb is very high, very annoying echoes can be produced.
However, even with professional equipment it is advisable to follow certain tips for setting up a video conference room. Undoubtedly the incorporation of certain decorative elements will contribute to a better sound quality. Here are some tips for the video conferencing environment:
Avoid inside the room the existence of elements that generate too much noise, such as air conditioners with a lot of sound, refrigerators or spaces near very noisy avenues. If in any way it is unavoidable that the videoconference room is on a main avenue, we recommend having compact windows with good sealing when closing.

Decorate the room with elements that absorb the reverberation that causes the so-called noise of video calls. Try to use soft materials and objects that aid in this noise absorption. For the floor, for example, the use of carpets or rugs will go a long way to absorb the reverberation of your room.

Try to use decorative elements for the room. A "bare" room will result in more reverb during our calls. Objects such as pots with plants or curtains are usually a good complement.

Use ceilings with soundproofing sheets. Thanks to the use of these plates, the sound will be muffled by the "sponginess" of this type of ceiling. In addition, you can play with the colors and shapes of your plates to give a personal touch to your conference room.
2. The size of your room
The previous point is extremely important for the decoration of your rooms. Although it is also necessary to take into account the size of it. A small room usually has fewer acoustic problems than a large room. For example, in a small room a single Laia t-Pod Wifi or a Laia t-Pod Trio with its three-in-one function (hands-free, VoIP phone and a videoconference terminal) will be more than enough to cover the sound of the entire room. room. In addition, we must remember that all our audio equipment has digital noise reduction, so that the cancellation of the acoustic echo will be a very positive factor so we must take our microphones into account.
On the contrary, if what we are facing is a large meeting room, a single Laia t-Pod Wifi or the Laia t-Pod Trio may be insufficient to collect all the sounds in the room. In this case, options such as the Laia t-Pod Dual or Laia t-Pod Quad are usually more complete solutions. In addition, we highlight one of the latest additions to Laia's family of microphones: the Laia t-Pod Beamforming. A terminal with Beamforming technology with which you can handle the radio frequency signal through an access point that uses multiple antennas to transmit the same signal. Perfect for picking up all sounds in medium and large meeting rooms thanks to its array of 12 internal unidirectional microphones. Or if you are looking for a quality audio solution incorporated in the room, you can opt for the Laia t-Pod Air Pro: the 360º ceiling omnidirectional microphone.
3. Increase the frequency range
The example commonly used to explain this is that of traditional telephones. These types of devices limit their frequency range to one third of what the voice covers. This means that much of our speech can be persisted during the meeting. What we must do is get teams that increase this frequency range to try to identify all the interlocutors, which leads to better communication and understanding during your meetings. This is why this type of equipment should extend this frequency from 20HZ to 20000Hz, which corresponds to the range of the human ear.
4. Sound distribution
In order to explain this point well, we must review what was said in the first point of this post: the size of the rooms. In this first point we alluded to how important it is to know what type of room we have. A large meeting room, for example, will require a series of technical equipment that, for a small meeting room, would be unnecessary. An example of this are external speakers. For a small meeting room, the simple audio of the monitor with which we are interacting may be enough. But, for a medium or large meeting room, it may be necessary to have some type of external speaker to include in our meetings. Thanks to this type of terminals, the audio will be distributed in a correct way in all the spaces of the meeting room, thus reaching all the interlocutors of the same.
But to have optimal audio quality in each and every one of the places in the room, you do not need to make a financial outlay for some speakers. Laia's family of professional microphones knows this, which is why most of their microphones are themselves microphones and speakers. In this way you will be able to listen and collect the information from different points of the meeting room.
For more information on audio or video conferencing solutions, contact us.